Foreword
|
author/source:
Foreword from Atopic Skin Disease A Manual For Practitioners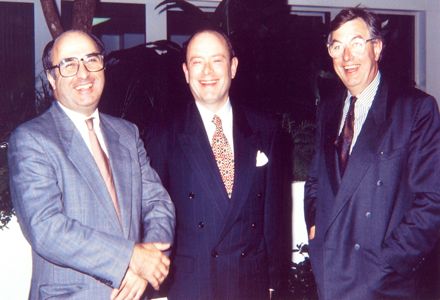 Dr Christopher Bridgett, Psychiatrist with Dr Peter Noren and Dr Richard Staughton, Dermatologists, meeting at
Chelsea and Westminster Hospital, London
from
"Atopic Skin Disease - A Manual for Practitioners"
"The practice of medicine, and of dermatology in particular revolves around the consultation and good communication. This book is a testament to good communication, not only between two dermatologists, one practising in Sweden and the other in London, but also between them and an interested and motivated psychiatrist.
The establishment of the

European Society for Dermatology and Psychiatry

ultimately brought the three authors together and I am sure innumerable patients with atopic eczema will benefit from The Combined Approach advocated in this novel and important new book.
I hope this book will be read by as wide an audience as possible, and not only by doctors, dermatologists, and nurses, but also by patients. There is no doubt that The Combined approach to eczema described here is effective and so will improve the quality of life for many patients with atopic eczema.
I think that this book has every chance of becoming a classic in the dermatological literature and I am sure many patients will be grateful to the authors for all the time and effort they have put into producing it."
J.A COTTERILL MD BSc FRCP
Medical Director, Lasercare Clinics,
and Consultant Dermatologist
1996